We offer small classes to teach you how to decorate cupcakes that really stand out from the crowd! Each class is kept small (max 5 people) this means you get to ask lots of questions and ensures individual attention.
We can also arrange special classes for you and a group of your friends. Please contact us if you would like a particular date and we can usually accommodate you. It's a great excuse to have fun and learn in a relaxed environment with your friends!
---
New to Cupcakes Class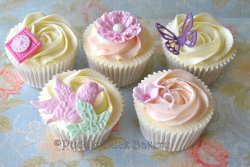 This class has been designed for the beginner or for those who are a bit out of practise! You will learn to bake and decorate 12 cupcakes from scratch. We will show you the best ingredients to work with so that you always get fabulous tasting, moist cupcakes.
The day will start being taught how to make lovely decorations for your cupcakes. This is your chance to get creative with different colours and designs. You also get to experiment with lots of different tools including embossers, cutters and moulds.
You will be taught how to make and colour mouthwatering buttercream, and then how to use it with different piping nozzles and techniques.
During this class we will teach you…
How to bake cupcakes from scratch.
How to make and colour smooth delicious buttercream.
How to colour and work with sugarpaste.
How to pipe buttercream on your cupcakes using different nozzels.
How to make decorations, including hearts, stars, flowers, handbags and more.
And of course we are on hand to ask any questions that you may have!
Finally you get to decorate your dozen cupcakes with the flowers and decorations you made earlier in the day. You have a presentation box to take them home in so that you can amaze your family and friends with your wonderfully stylish creations.
Price: £125.00
---
Taster Classes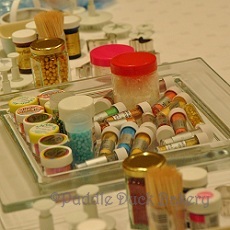 This 2 1/2 hour beginners class is a great introduction to cupcakes and will give you a little taste of what happens in the kitchen at Puddle Duck!
You will get hands on with buttercream and learn how to pipe the perfect swirl! You'll make decorations from sugarpaste which will be used later on to decorate 6 of your cupcakes.You get to perfect your decorations with lustre dust, glitter and sprinkles! This is a really fun taster class and a must if you don't have time for the full day course or if you just want to dip your toe into the marvelous world of cupcakes!
Please see times for this class under "book a class".
Price: £60.00
---
Course Times
The classes are held in Burford, Oxfordshire and run from 10.30 – 16.00. There is ample free parking.
Course Prices
All classes are £125.00 and are to be paid for in advance.
What's Included?
The course price includes: materials, use of sugarcraft tools and equipment, notes on what you have learnt, refreshments throughout the day, lunch and of course your 12 beautifully decorated cupcakes all boxed up to take home.
To keep up to date with new classes and when we add new dates, please join our facebook page.
To book a place on our class please call 07967 180460 or email us at kitchen@puddleduckbakery.co.uk